THE STORY
Lisa leaves Oliver! (For a week...to go pack up their furniture and have it shipped to Hooterville)

While in New York, Lisa and her mother-in-law visit Rodney Weatherby, famous architect, hoping to fix up Green Acres and make it a little more liveable (Tennis courts, putting green, swimming pool, croquet course, weight room, etc.). In Hooterville, Oliver is doing some planning of his own, hoping to turn the Old Haney place into a real farm.

Mr. Haney keeps interrupting Oliver with his efforts to sell him Eleanor the cow. But Oliver is not falling for Haney's tricks this time!

Finally, Lisa returns, and Oliver and Lisa compare their plans. Not surprisingly, Lisa's 1/2 million dollar estate plans don't quite fit in with Oliver's plans. But she takes it in stride, and even buys him a gift to celebrate their one month anniversary of being on the farm...Eleanor the cow!
THE PICTURES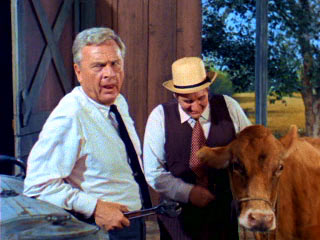 Haney tries unsuccessfully to sell Eleanor to Mr. Douglas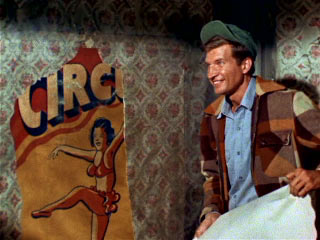 Eb "exposes" what is beneath the current wallpaper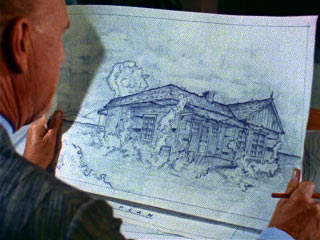 Rodney Weatherby can't believe Lisa's description of Green Acres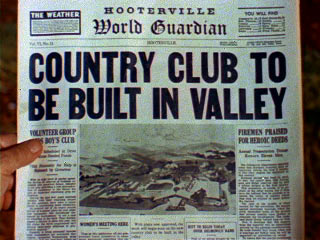 Lisa's plans for the farm cause quite a stir



TRIVIA
To get to the airport, Lisa "simply" has to follow these instructions: "You take the train to Pixley, hmmmmm? And at Pixley, you take a cab to the bus depot. At the bus depot, you take a bus to the County Seat...At the County Seat, you take a jitney to the airport." Whew!

Lisa flies "Transconsolidated Airlines" to New York.

While waiting for "the County Agent" Oliver reads "Plowing, Planting, and Cultivating - Planning the Farm for Profit and Stability."

Originally, Haney asked for $200.00 for Eleanor, then $100.00. We never find out what Lisa ended up paying for the cow.